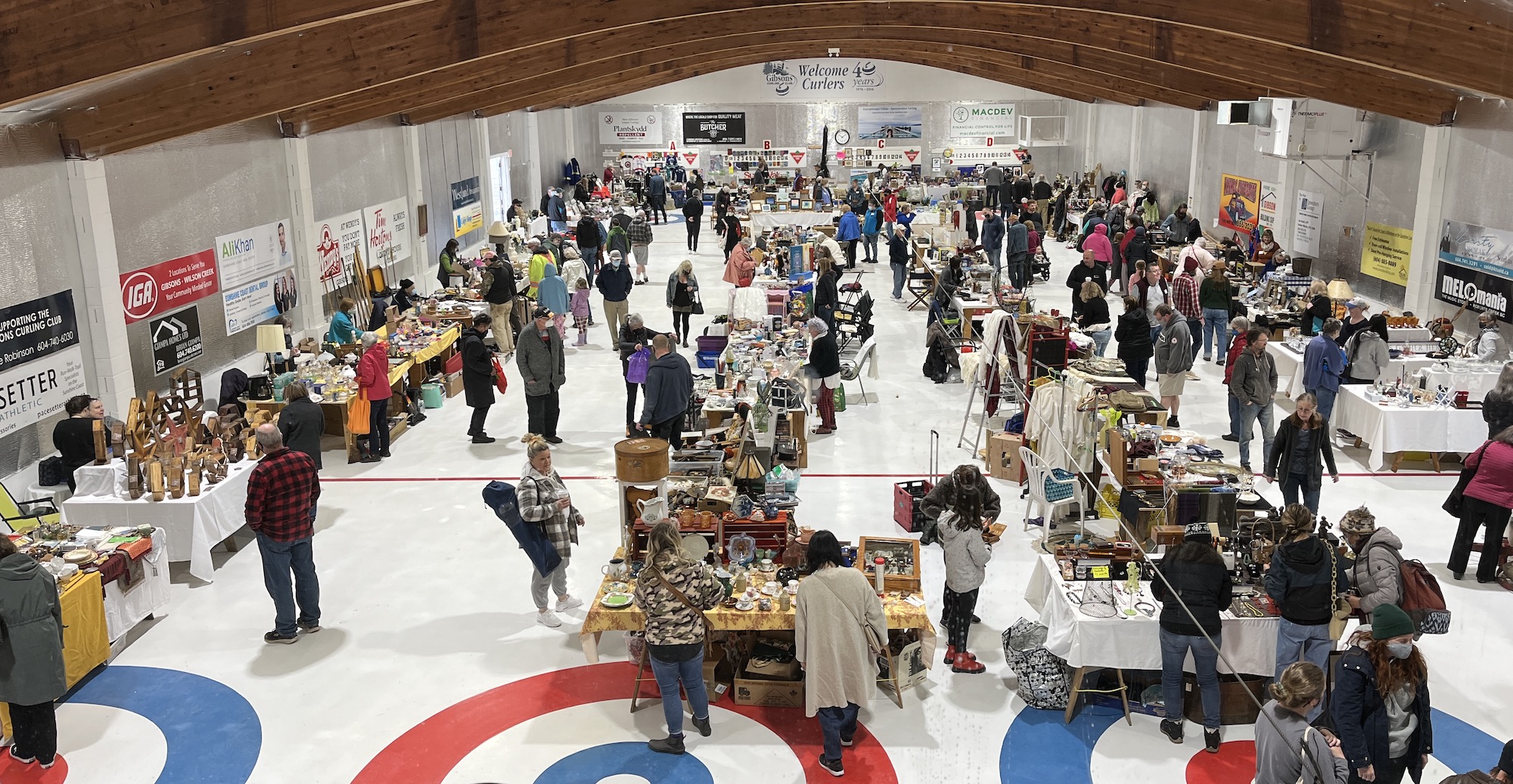 Every year, after the curling season ends and the ice melts, Gibsons Curling Club is transformed into the largest flea market on the Sunshine Coast!
Every second Saturday in the summer, 40+ vendors sell unique items, homemade crafts, and fantastic home decor at bargain prices. From dishes to doilies, telescopes to reading glasses, there is something for everyone at the Gibsons Curling Club Flea Markets!
Markets run from 10 am to 2 pm and admission is just $2 - so bring some toonies. Children under 12 are free!
The 2023 flea market schedule is:

Saturday, May 13
Saturday, May 27
Saturday, June 10
Saturday, June 24
Saturday, July 8
Saturday, August 5 - NEW!
Information for Vendors
If you are looking for a place to sell your items, rain or shine, the Gibsons Curling Club Flea Market is for you!
COST: Tables cost $25 for each market and must be paid in advance. There is often a waitlist for tables, so reserve your spot early!
EQUIPMENT: Only tables are provided. You must bring your own tablecloth and chair.  Don't forget a cash box for making change.
LOAD IN: Vendors are allowed to load in their items on Thursday night from 6 pm - 8 pm two days before the Saturday flea market. They are also allowed time before doors open on Saturday morning for set-up and last-minute touches.
CONSECUTIVE MARKETS:  If you're staying for the next flea market, let the organizer know and you can leave your stuff set up on the table (if you wish). Just bring a sheet or tablecloth to cover your items. The building is secured and alarmed.
LOAD OUT: If you are not staying for the next one, you need to pack up your items immediately after the flea market closes. Come prepared with boxes and containers. All tables must be emptied and cleaned up following the final flea market. We can not add extra days or schedule alternate clear-out times.
ADVERTISING: The flea market posts neon signs up and down the coast promoting the market, in addition to weekly newspaper ads. It is well promoted via social media. Attendance is high.
Call 604-886-7512 or email us at gibsonscurling@gmail.com to reserve a table.
Information for Club Members
The GCC Flea Market is a vital part of our operations. We are always in need of volunteers to make the flea markets a success! There are several ways you can volunteer:
Help with set-up before the first market or take-down after the last market
Work during market hours to take money at the door or act as security at the doors
Donate your items to be sold at the club table with all proceeds going directly back to the curling club. All items must be in working order, and we do NOT accept clothing or books.
Drop off items on the Thursday before each flea market from 6-8 pm or during any flea market Saturday from 9-2 to the club table. If you are making a larger donation, an alternate time may be arranged by emailing Juanita.
Watch your email for requests or look for sign-up sheets posted in the club in late spring. We are a volunteer-run organization and couldn't do it without you!